As times change, so does the job market. Every year brings new kinds of employment based on new technology or social needs. Freelancers are often thinking about the newest kind of jobs out there, particularly the ones that can be done from almost anywhere.
Best Paying 5 Jobs Freelancers Can Do From Anywhere
So what are these jobs?
A recent article in Forbes
names a few that pay particularly well.
1. Teleradiologists
Doctors often need to consult with other medical experts, and in this day and age, there's no longer any need for these two people to be in the same room. According to the article teleradiologists can make six figures working with medical professionals, hospitals, and insurance companies on analyzing patient images sent over the internet.
What kind of jobs and careers are there in teleradiology? Radiologist The radiologist is the doctor actually viewing the images and providing a report. Some are salaried employees of the teleradiology group, and some are independent contractors. Most work from home, but some work out of imaging centers. Salary: Typically based on the number of studies they read. $100,000 – $600,000 a year.
2. Telepharmacists
Radiologists aren't the only medical professionals who can do their work online. Pharmacists are also using the internet to bring their services to patients. Some pharmacy schools actually have telepharmacy divisions where they help their students master this booming industry to, again, earn six figures for their services
Telehealth provides an opportunity for pharmacists to work full-time or part-time from home. In one study, clinical pharmacists used a telehealth system to successfully manage diabetes patients. Several hospitals are experimenting with telepharmacy or have already established virtual pharmacy services. What pharmacists should know about telepharmacy: Telepharmacy is growing and positions are available. Search here for telepharmacist jobs and sign up for job alerts at Healthcare Careers. A pharmacist license from the state served by the telepharmacy is required. VA hospitals have been hiring telepharmacists for many years. Check with your local VA hospital for work from home (virtual) pharmacy jobs. Mail order pharmacies may also have work from home opportunities.
3. Online Teachers
Online classes have shot up in popularity over the last decade. It's never been easier to learn a new language, take a creative writing class, or brush up on your chemistry skills. According to Forbes, people who teach online college courses can earn a median of $62,000 a year.
Experienced teachers who are highly qualified and come from the top institutes like IIT and IIM can expect to earn more than government educated teachers. Having the right qualifications such as B.Ed and M.Ed goes as long way in ensuring a steady online income. Benefits Of Becoming An Online Tutor Flexibility of working hours, you can choose your working hours. Fulfilling job because you are shaping the careers of students. You can teach from anywhere and at anytime. All you need is a laptop and Internet connection. High earnings compared to other online professions. Regular source of income with less risk.
4.Translation
Globalization is a part of our society, and it often involves bringing together people from various backgrounds who speak various languages. If you know a second (or third or fourth) language, you can make money from just about anywhere by offering translation services.
Income varies across languages depending on customer demand and job availability. Choose your primary language to see how much you can earn per month as a Gengo translator.
5. Telenurses
As you may guess, no other industry seems to be embracing the power of technology in the workplace quite like the medical industry. One example of this is the rise of telenurses, nurses hired by hospitals to talk to patients over the phone. These conversations might consist of going over mysterious symptoms, or advising them on how to take a certain kind of medicine.
Careers in telehealth are expected to grow in the near future. Telenursing is a subset of telehealth and is defined as "the use of technology for delivering nursing care from a distance," according to the American Telemedicine Association. Health analyst Skip Fleshman predicts telehealth will surge in 2015 because of a number of factors, including faster Internet connections, improved video chat technologies and the proliferation of mobile devices. Cost has been the biggest hurdle to telehealth, also known as telemedicine. But Fleshman says in a Healthcare Business & Technology article that two key events will make a difference: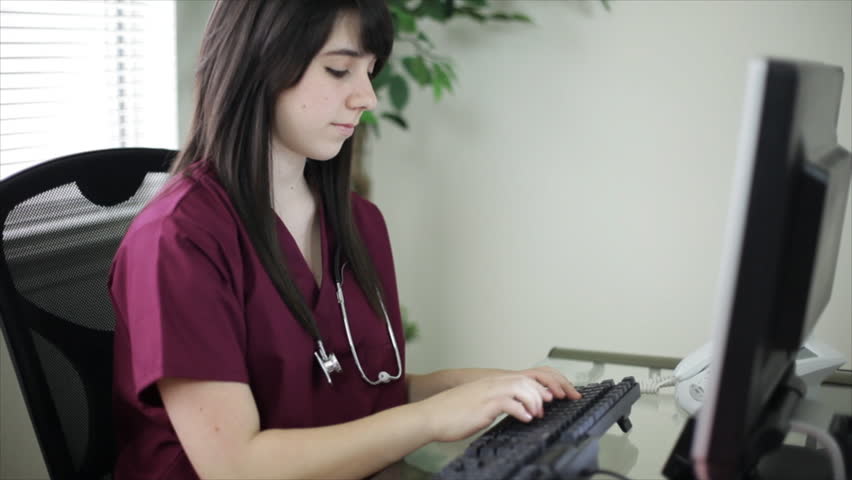 • Medicare and Medicaid started covering telehealth treatments for chronic diseases in January 2015. • Half of all Medicare payments will be based on hospital outcomes and efficiency instead of the fee-for-service model by 2018. Job opportunities for telenurses Health insurance companies Many insurance companies and managed care providers hire telenurses to work in call centers. These nurses conduct triage over the phone and determine the best level of care and treatment center for patients. They also educate and counsel patients on good health behaviors, communicate test results and provide follow-up care. It's no wonder that insurance companies are interested in hiring telenurses. Investing in telehealth saves money in the long run and decreases costly visits to the emergency room. In addition to insurance companies, telephone triage nurses may also work for physicians and health care facilities. Hospitals Telenurses are needed in hospitals to monitor patients' vital signs in real time. Also known as telemetry nurses, they typically work with patients in critical condition who need constant monitoring in intensive care units (ICUs) and step down units. Because they work with complex equipment, telemetry RNs must be comfortable and proficient with health information technology and in interpreting data. Hospitalized patients often need support as they transition to home care, and telenurses are an effective way to help bridge this gap. Patients are bombarded with information when they are discharged home and may feel overwhelmed and unable to follow instructions properly. Telenurses regularly check in with the patients to see how they're recovering, answer any questions the patient or family member may have about follow-up care and medication dosages and recommend resources for medical equipment. As more hospitals are evaluated on readmissions and patient outcomes, the demand for telenurses will likely increase. In addition to hospitals, ambulatory surgery centers and other acute care facilities may also hire telenurses for patient follow-up care. Home care agencies The need for telenurses to monitor people at home will continue to grow as a large percentage of the population reaches retirement age. Technology has become more sophisticated and can monitor a patient's blood pressure, heart rate, temperature, weight and blood glucose remotely through a phone or Internet connection. Telenurses interpret the data and track patterns over time. When they see a decline in health, they can intervene before the individual requires hospitalization. This remote monitoring eliminates travel time for home visits, and the nurses are able to care for more patients. Chronic illness management Patients with chronic diseases such as diabetes, hypertension, COPD, cancer, heart conditions and degenerative neurological disorders are prime candidates for telenursing. These roles are typically for nurse case managers and health coaches who work in hospitals, rehabilitation clinics, insurance companies or as independent consultants. Telenurses help patients learn to manage their symptoms and improve their health behaviors. As the patients become more involved in their care, they are better able to see how their actions affect their health and experience a better quality of life as a result. Telenurses can also coordinate care among different health providers. How to become a telenurse Telenursing is ideal for experienced RNs who are looking for a less physically demanding job. Most telenurses have at least 10 years' clinical experience and have worked in emergency or acute care departments, home health or other nursing specialties. Nurses working in this role must have strong clinical and critical thinking skills to make assessments without seeing the patient in person. It's also essential that they practice active listening and have clear communication skills. There is no national certification requirement for telenurses in the U.S., but some specialties require or recommend certification. The American Academy of Ambulatory Care Nursing (AAACN) has more information on specific certification requirements. Telenurses may require an additional license if they practice across state lines.